Full metal jacket: a striking home in Bruton
At their first glimpse of Ferrum House, most people have the same question: "How did you get permission to build it?" Owners Andrew Pennock and Dana Anderson have been asked it countless times – often in admiration, sometimes in horror. "It's definitely a Marmite house," says Anderson. "We even overheard one little boy asking his mum if we were building a police station."
Their contemporary home in Bruton, Somerset, is sandwiched between a handsome Georgian building and a former 19th-century silk mill, turned into a bacon factory in the 1900s and now divided into flats. Then, set back from the road, is Ferrum House: a mottled brutalist cube panelled in raw Corten steel that almost seems to hover above its more restrained timber-clad base.
As a town, Bruton is no stranger to innovative architecture. The Hauser & Wirth gallery is on its doorstep and a 17th-century chapel in the town centre was converted into the restaurant and hotel At the Chapel in 2009. But when Pennock and Anderson moved here 18 years ago, "it was pre-Hauser and pre-flat whites", smiles Anderson.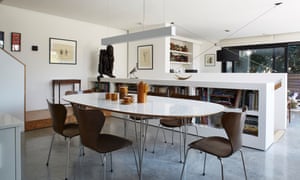 The couple came here from Seattle, where Pennock worked in software typography and (US-born) Anderson was a photographer. In fact, one of the reasons they liked the town was because it was a less obvious choice. "It had an air of run-down eccentricity that appealed," remembers Pennock.
We didn't offer something that pretended to be in keeping with the local vernacular. It was seen on its own merits
This is their third home in the town and they built it on the site of an old garage. "It had been a petrol station and repair shop until the 1960s, but more recently it was just a place where people parked cars," says Pennock.
The garage had been part of a plot belonging to the Georgian house next door – which the couple owned and lived in until their new home was finished. This, of course, was one reason why the planning application had a smooth passage. "On the one side was an old factory building, with no side windows. And on the other was us," says Pennock.
The site was a tricky triangular slice, so the house widens out on the southwest side that faces away from the road, where it opens on to a decked outdoor area. There is a further deck on the first floor and an enclosed one on the top floor, with large openings that frame views of the town and treetops.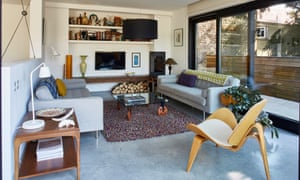 The design of the house was by Mark Merer. Although it is in a conservation area, the house got the go-ahead "precisely because it didn't try to copy neighbouring buildings," explains Pennock. There are no faux cottagey windows, no new-build thatch or Poundbury-style porticos here. "We didn't offer something that pretended to be 'in keeping' with the local vernacular. Instead, it was seen on its own merits, as a convincingly contemporary, well-designed building."
The initial proposal specified that the exterior would be terracotta in colour, but the idea for Corten steel panels came later. "We'd been back to Seattle and saw how Olson Kundig had used the material on a warehouse conversion," says Anderson. The reddy-orange colour of the bolted-on panels has already mellowed and will continue to darken over time.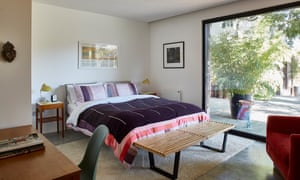 For the inside spaces, the couple's wish list was short and to the point: maximise the space and make it as energy efficient as possible. So windows on the southwest side are large to make the most of the light (and heat), while the street side has far smaller openings. An air-source heat pump and structural insulation panels make the house "almost but not quite" up to the Passivhaus energy efficiency rating. Even so, the couple's utility bills are never more than £100 a month.
In keeping with the architecture, surfaces are clean-cut and hardwearing, with polished concrete and sealed cork flooring. Furniture is a mix of high street, vintage finds and modern design classics, such as Eero Saarinen's womb chair and the shell chair by Arne Jacobsen. Art and sculpture is everywhere, mostly by friends and artists. "We've accumulated rather than deliberately collected," says Pennock.
While this is a house that flouts tradition, it has won an award for the best new build in a conservation area from Somerset Building Preservation Trust. "We love it here and can't imagine living in a period house again," says Anderson.
As 2018 draws to a close….
… we're asking readers to make an end of year or ongoing contribution in support of The Guardian's independent journalism.
Three years ago we set out to make The Guardian sustainable by deepening our relationship with our readers. The same technologies that connected us with a global audience had also shifted advertising revenues away from news publishers. We decided to seek an approach that would allow us to keep our journalism open and accessible to everyone, regardless of where they live or what they can afford.
More than one million readers have now supported our independent, investigative journalism through contributions, membership or subscriptions, which has played such an important part in helping The Guardian overcome a perilous financial situation globally. We want to thank you for all of your support. But we have to maintain and build on that support for every year to come.
Sustained support from our readers enables us to continue pursuing difficult stories in challenging times of political upheaval, when factual reporting has never been more critical. The Guardian is editorially independent – our journalism is free from commercial bias and not influenced by billionaire owners, politicians or shareholders. No one edits our editor. No one steers our opinion. This is important because it enables us to give a voice to those less heard, challenge the powerful and hold them to account. Readers' support means we can continue bringing The Guardian's independent journalism to the world.